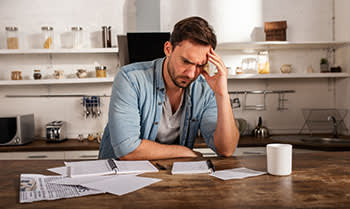 There were more than 49,000 Chapter 7 and Chapter 13 bankruptcy filings in California in 2020. It is unlikely that many of them made that decision lightly, knowing that relief comes at a cost. If you have considered filing for bankruptcy, don't let the myths or misconceptions affect your decision. You need to get the facts from an experienced bankruptcy attorney.
At Duffy Law, I represent clients in Irvine and throughout Orange County, California, who need the fresh start bankruptcy can provide. Let's start by dispelling these 5 myths about bankruptcy:
1. Bankruptcy permanently ruins your credit.
Depending on the type of bankruptcy you file, it can damage your credit for a period of years but not forever. Chapter 7 bankruptcy, which discharges all debt, remains on your credit report for 10 years. Chapter 13 bankruptcy, which restructures your debt, remains on your credit report for up to seven years if you complete the restructured payments.
2. Bankruptcy discharges all debt.
Chapter 7 bankruptcy will discharge unsecured debt, including but not limited to credit cards, personal loans, and medical bills. It can also discharge balances due on your auto loans and mortgage, although you will have to surrender your vehicles and real property to do so. Chapter 7 will not relieve debt from obligations such as alimony and child support, student loans, back taxes, court fees and penalties, homeowner association fees, and judgments against you for certain personal injury claims. It also won't take care of any unsecured debt you didn't have discharged in your bankruptcy case.
Chapter 13 bankruptcy does not simply wipe out all of your debt. Instead, it offers you the opportunity to keep the property you own in exchange for agreeing to pay back your creditors over a three- to five-year period.
Chapter 13 bankruptcy will not discharge debts such as child support, alimony, and taxes. You will need to keep current with those payments throughout the course of the bankruptcy. Chapter 13 might, however, help you catch up with payments in arrears.
3. Bankruptcy won't stop creditor harassment.
Once you file for bankruptcy, the court automatically issues a "stay order" which stops any action a creditor can take against you, as long as you list them in your case. The court will inform all listed creditors and upon notification, all creditor calls should cease. They are not allowed to call, email, text, or send threatening letters to you. They also cannot repossess your collateral, foreclose or place a lien on your real property, or file a lawsuit against you. If creditors fail to cease these actions, notify your bankruptcy attorney. Your attorney can update creditors or threaten to file suit against them if they continue to violate the court's stay order.
4. Debt consolidation is a better option.
Debt consolidation typically does less damage to your credit score, but not everyone struggling with debt can obtain enough money using a credit card, personal line of credit or loan, or a home equity loan to pay off all creditors and make a single monthly payment back to the consolidation loan source. Furthermore, debt consolidation may not lower your credit utilization ratio upon which credit scores are based.
Debt consolidation may be a good option for some people. For those who have too much debt to qualify for a consolidation source, bankruptcy may be the better — or only — option.
5. You won't be able to buy property after bankruptcy.
You can buy property after bankruptcy. When and where depends on the type of bankruptcy you filed and the type of loan you want.
If you filed for Chapter 7, you will have to wait four years from the time the court discharges your debt before you can get a conventional loan. You may be able to qualify within three years for a USDA loan or in just two years for a VA or FHA loan.
If you filed for Chapter 13 bankruptcy, you must wait for four years after the court dismisses the bankruptcy before you can obtain a conventional loan or one year before applying for a USDA loan. There is no waiting for an FHA or VA loan once the court dismisses the bankruptcy.
Get Help from an Experienced Attorney
Filing for Chapter 7 or Chapter 13 bankruptcy is a huge step, but often one that helps people get back on solid financial footing. It is important that you seek the advice of an experienced bankruptcy attorney from the moment you start considering bankruptcy. You need to rely on the facts of the legal process rather than base decisions on the myths.
At Duffy Law, I help bankruptcy clients take control of their lives again. If you live in Irvine or communities throughout Orange County, including Newport Beach, Corona Del Mar, Laguna Beach, or Huntington Beach, California call my office now to schedule a consultation and get the facts.
Don't wait another day. Call now.