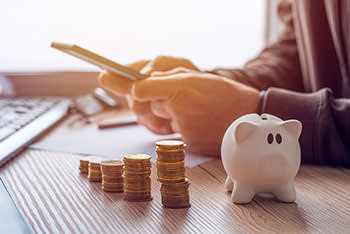 During the current pandemic, many people have actually increased their savings and wealth, while others — especially those working in the hospitality and travel industries — have suffered, and many of them are facing a challenging financial future.
It's fairly normal to have to juggle payments on credit cards and other debt when times get tough, but at what point should you consider bankruptcy to wipe out most if not all of your unsecured debt?
Bankruptcy can be a useful tool to secure a fresh financial start for yourself, but many people grapple with the stigma of it and with the thought of losing everything they have (which actually doesn't have to happen) in bankruptcy.
If your debts are overwhelming, creditors are calling, or you're falling further and further behind in making monthly payments, bankruptcy may be the best option for you. If you're in or around Irvine, California, call me at Duffy Law. As an experienced California bankruptcy attorney, I can review your situation and advise you on the optimal path forward.
Assessing Your Current Financial Situation
If, as mentioned above, you're falling too far behind on your monthly payments — or paying less than the amount owed to try to cover all obligations — and you're getting creditor calls on a routine basis, it's time to take a serious look at your situation.
The first thing to determine is if your financial challenges are short-term or long-term. In either case, you just don't have the income to cover all your obligations, and that situation doesn't show any signs of improving anytime soon.
Actually, in both circumstances, bankruptcy may be the very option you're looking for.
Debt Restructuring or Liquidation?
Two codes of the bankruptcy law apply to individuals and families, and even to some small businesses. Chapter 13 bankruptcy offers a form of debt consolidation and restructuring, while Chapter 7 bankruptcy liquidates — or sells off — some of your assets to pay your creditors, at least partially.
In both types of filings, certain assets are exempt from sale or seizure, although conditions may apply. You generally can keep your house, your car, your clothes, your furnishings, the tools of your trade, and your retirement savings.
Chapter 13 is the favored option if you still have income, but it's just not sufficient to cover all your debts. The filing will enable you to reduce and consolidate those obligations into one lump sum to be paid back over a three- to five-year period.
The main drawback with Chapter 13 is that your debts are not discharged until you've completed the full payback, and during that period you cannot accrue any additional debt without the approval of the court.
Chapter 7 is the option of choice if you have little or no income and there's no way you could pay back your creditors even if your debts were reduced and consolidated. In this type of filing, non-exempt assets are subject to being sold off to raise cash that will go to your creditors.
As soon as your case goes through the bankruptcy process, you will be discharged from your unsecured debt, and you're free to take on new obligations, though lenders are going to be reluctant to deal with you except on very high-interest terms.
Who Is Eligible?
Both types of filings carry with them a "means test," which examines your income versus obligations. If the test reveals that you can repay your debt without a filing, you probably cannot use bankruptcy as an option. You are also required to go through an authorized credit counseling course before you file.
Are Homes and Cars Exempted?
What Isn't Exempted?
Are houses and cars exempt? Under a new law signed in 2020, California now allows a more generous homestead exemption for your residence, which ranges from $300,000 to $600,000 depending on the county in which you live. Vehicles also are exempt up to a certain value, based on equity. A car valued at $5,000 with a $4,000 loan on it has $1,000 in equity value.
In both cases, check with your bankruptcy attorney to see if your assets are protected. Also, if you're behind in payments, there may be a way to catch up and retain your home or vehicle.
Not every obligation can be discharged in bankruptcy. Most student loans, child and spousal support payments, and taxes are not dischargeable.
The Automatic Stay under Bankruptcy
Once you file for either Chapter 13 or Chapter 7 bankruptcy, creditors must cease contacting you and deal solely with the trustee assigned to your case. If they continue to contact you, they can be penalized by the court. Your bankruptcy attorney should be notified if they fail to honor this order, which is known as the automatic stay. The stay also stops cold any eviction, repossession, or foreclosure proceedings for the time being.
How Duffy Law Can Help
If you're in tough financial straits, the thought of bankruptcy may scare you initially, but once you get counseling on the whole process, your fears will likely subside. Bankruptcy may be just the ticket to resolve the financial mess you're facing, offering you a fresh start while allowing you to retain many of your possessions, even your home and vehicle.
At Duffy Law, I will review your financial situation with you and offer you concrete advice on how to move forward, whether it be Chapter 13, Chapter 7, or neither. If bankruptcy is the clear option, I will handle all the paperwork and provide full legal support throughout the proceedings. Through it all, you will be in capable, experienced hands.
For over a decade I have been serving clients in Irvine, Corona Del Mar, Huntington Beach, Laguna Beach, and communities throughout Orange County, California. Call me at Duffy Law today to get started.